OpenWeather: 2020 - results of the year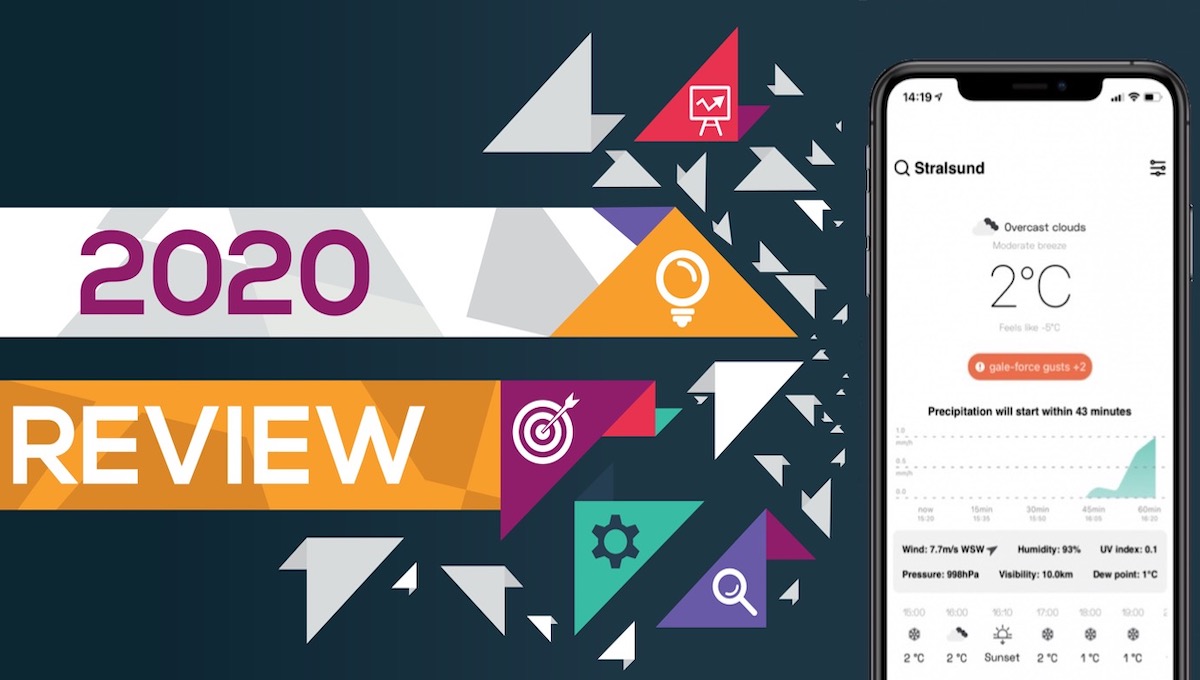 Posted on 24 Feb 2021
In OpenWeather we have an annual tradition of drawing the results of the year. The year 2020 was not easy for all of us. The unparalleled healthcare challenge has pinpointed the fragilities of our world and OpenWeather sees its mission to make a positive change. The current crisis created a momentum where everyone can make a change towards better climate, cleaner air and sustainable future.
Products released in 2020
Last year we have improved our minute forecast technology and extended the precipitation forecast horizon up to 2 hours. This technological achievement enabled us to improve some of our products and make it part of new exclusive solutions:
One Call API - the aggregation of essential meteorological data for any location worldwide: current weather; 5 days of weather history; 7 days of weather forecast with a minute forecast for 1 hour and an hour forecast for 48 hours. In addition, it also includes the national weather alerts. This API makes all your weather data available in one piece, with a freemium subscription.
We aggregate and process meteorological data from tens of thousands of weather stations, on-ground radars and satellites to bring their users accurate and actionable weather data for any location worldwide. This enormous amount of weather data is processed by our convolutional Machine Learning model. The ML technology enriches the classical NOAA, Met Office and Environment Canada forecasting models by using complementary data sources and proprietary algorithms, improving the overall quality and reliability of data.
Global Weather Alerts - Push service that brings simplicity into working with national weather alerts on the Global scale. It streams the accumulation of current alerts into your IT system in a standardised and unified format. The full description of the alert includes such parameters as: coordinates of the area affected; alert category; urgency; start and end time etc.
Air Pollution API - this year we have launched a new API that accumulates current, forecasted and short term history data on the concentration of CO; NO; NO2; O3; SO2; PM2.5; PM10 and NH3 in the air for any location around the World. It provides the data in hourly granularity for the upcoming 5 days and it is included into all the OpenWeather subscriptions, starting with the freemium plan.
Road Risk API - our contribution towards sustainable transportation. It enables ML/AI solutions to compute the safe and efficient route from the point A to point B, allowing the drivers to spend less time on the road and decrease the volume of GHG emissions. The API is designed to improve the accuracy of short-term planning by exploiting a minute-by-minute forecast for 2 hours, hourly weather forecast and national alerts for five-days. The weather data is provided for any moment of time for 5 days ahead and 5 days back, covering any destination and any point along the route.
OpenWeather App
There's a product that deserves special attention. This year, we have released OpenWeather App - bringing our data accuracy directly onto your mobile devices. All the data for our application is provided by One Call API. The application is now available on App Store and Google Play. Our App conveys a scientific, yet simple approach to weather forecasting wrapped up in a minimalistic, but informative UI.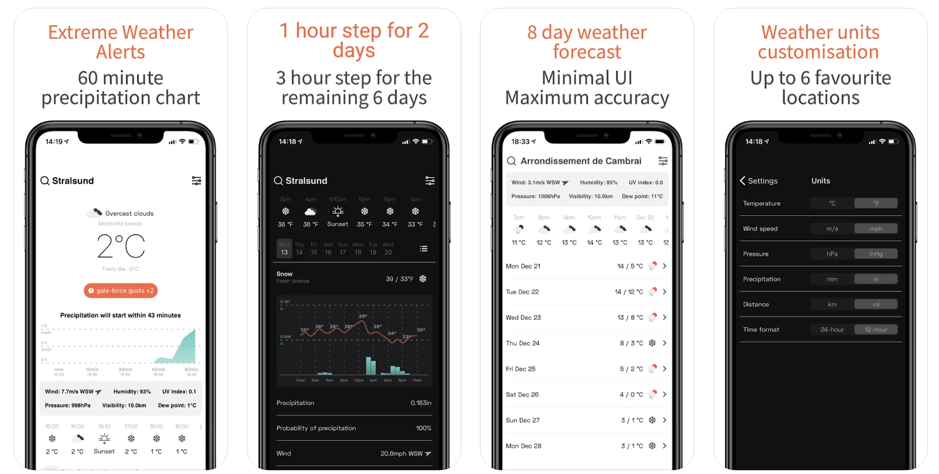 OpenWeather App is now available for iOS and Android
OpenWeather Initiatives
In 2020, we have launched our Free Data For Students and healthcare initiatives to facilitate access to weather data and to instigate interest in data-science and climatology. Since the more people have access to the climate data, the larger potential it may unleash. Data's value is not diminished, but increased by the amount of parties using it. In confronting the current climate and healthcare challenges the access to the weather data is vital.
Read more: